New Research Delves into How Managed Travel Policies Address Air Travel
ARLINGTON, Va. – September 13, 2018 – Basic economy tickets introduced last year by many airlines are typically cheaper, but as they come with certain restrictions, many business travel programs limit or totally block access to them, according to new research out today from Airlines Reporting Corp. (ARC) in partnership with Global Business Travel Association (GBTA). The study reveals a majority of corporate travel program policies (63 percent) do not permit basic economy ticket purchases and even more (79 percent) configure their booking tools to hide basic economy fares altogether.
Besides moving away from basic economy tickets, the research revealed that travel programs allowed booking business or premium economy tickets in some scenarios. Nine out of 10 (89 percent) allow business class travel at least occasionally for lengthy flights, international flights or for senior executives. Many travel programs are embracing premium economy fares, which provide extra legroom and other amenities such as early boarding. More than half (55 percent) of policies always or sometimes allow these fares and an additional 30 percent occasionally permit them.
"It's not surprising to see many business travel programs shying away from basic economy fares," said Michael W. McCormick, GBTA executive director and COO. "These fares pose a challenge for travel programs, creating difficulty for spend visibility and comparison shopping when add-ons are factored in. Additionally, travel buyers are increasingly factoring in traveler preference and convenience as they recognize the importance of their role in employee retention and recruitment in a strong economy with low unemployment."
Travel programs almost universally (91 percent) address the advance purchase of flights with 29 percent requiring advance purchase whenever possible and 71 percent recommending it. However, 52 percent of programs do not require special approval of flights booked after the advance purchase deadline.
ARC transaction data shows that booking in advance can mean significant savings, so travel programs may want to consider a stronger focus on advance purchase based on the needs of their travelers. "Even a small advance purchase policy of only a week or so before travel can yield savings vs. average ticket prices," said Chuck Thackston, ARC managing director of data science and research. "Longer advance purchase is generally better, but balancing the needs of travelers and cost savings opportunities is achievable for most companies."
Preimum vs. Economy Advanced Purchase
Add-Ons and NDC
The vast majority (82 percent) of travel programs address add-ons, yet only one in five say these are commonly purchased through TMC channels. With the growing rate of New Distribution Capability (NDC) implementations, however, ancillaries will become more accessible during the booking and ticketing path presenting both opportunity and a need for clearly defined travel policies.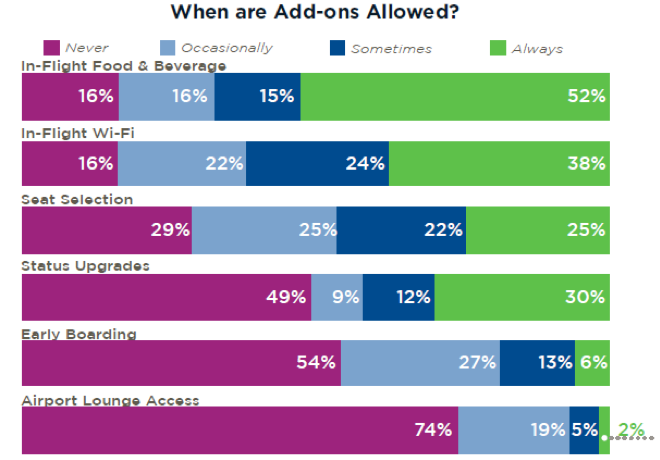 Is Gamification Gaining Momentum? Not Yet for Air Travel.
The study showed only 3 percent of travel programs reward travelers for saving money on air bookings. However, 21 percent would consider rewarding travelers for policy compliant or low-cost air bookings.

Methodology
An online survey of U.S. travel buyers was fielded between March 28 and April 10, 2018, with 168 respondents qualifying for the survey given they are buyers or procurement professionals and their company has a written travel policy.
More Information
Download an infographic here with key highlights from the research. A summary of findings, How Do Travel Policies Address Air Travel, is available exclusively to GBTA members by clicking here.

To request an interview with an ARC expert for a closer look at the research and to learn more about trends in travel policies and air travel, please contact Hillary Smith.