Debit Memo Best Practices from ARC's Debit Memo Working Group
ARC is proud to announce the travel industry's first set of best practices for preventing and resolving debit memos, created by the Debit Memo Working Group (DMWG).
The Best Practices for Effective Debit Memo Resolution and Prevention include guidelines for airlines, travel agencies, global distribution systems (GDSs) and ARC. The goal of these best practices is to produce more effective, timely and predictable debit memo resolution, as well as the prevention of debit memos wherever possible.
Every day, ARC settles approximately $238 million in airline ticket transactions between more than 220 airlines and 12,000 travel agency locations. In 2017, a daily average of $337,000 in debit memos was issued to U.S. travel agencies. Historically, each agency and airline has handled these debit memos in disparate ways — resulting in a complex, time-consuming and often unpredictable environment.
Thanks to the work of the DMWG, the industry now has a set of guidelines for more effective debit memo resolution. For more than a year, the Debit Memo Working Group has been working to identify key issues surrounding debit memos. In a series of workshops throughout 2017, the DMWG collaborated on proposed solutions that would benefit the industry as a whole. In December 2017, the DMWG voted to approve the finalized set of best practices.
"When debit memos do arise, we can all leverage this document to examine our habits, and align to the best of our ability with what the industry has defined as best practices," said Paula Peitz, director of airline accounting for Carlson Wagonlit Travel. "This will drive consistency in our processes and allow us to work more effectively with our industry partners."
"From Delta's perspective, having best practices in place sets goals and expectations for airlines, agencies and GDS providers allowing all to improve customer service and provide consistency for the debit memo process from end to end," said Hope Harper, revenue recovery manager at Delta Air Lines.
To learn more about how your agency can adopt some or all of these best practices for effective debit memo resolution, register for ARC's upcoming webinar, Debit Memo Best Practices for Agencies.
---
Optimize Debit Memo Management with Flex Fields
By using the six customizable flex fields provided in ARC's Memo Manager, travel agencies can better manage their debit memo processing, reconciliation and reporting.
Memo Manager gives travel agencies access to six open flex fields, which can be used to store any agency-defined information about a memo — in an environment that is not visible to the airline. These versatile fields allow you to assign values or provide notes to any memo, giving you the power to track, sort and create custom reports based on those values.
Here are some common ways you can utilize flex fields to enhance your debit memo processing:
Record agent name. Enhance communication within your agency by recording the name or initials of the agent (or GDS contact) identified as responsible for resolving the debit memo. Additionally, agencies can document the name or initials of the ticketing agent responsible for generating the debit memo for increased transparency.
Add an agency-defined reason code. An airline can assign a standard reason to a memo, but the issue may be complex — or your agency's opinion of the memo reason could differ. In these cases, agencies can utilize a flex field to indicate the agency-defined debit memo reason code.
Categorize corporate accounts. By adding the corporate account and/or business unit name associated with the ticket, your agency can identify memo trends for corporate clients.
Mark disputed memos. Make a note of which memos have been disputed so your agency can track how many disputed memos have been won or lost.
Make notes on open memos. Add notes about ongoing research or the status of an open memo, or communicate whether the memo was an agency issue, an agent issue, a GDS issue or a client issue. Agencies can also indicate whether a memo has been assigned to the GDS.
Reference billing codes. Document the accounting or billing code assigned to the debit memo to enhance internal reporting.
Mark paid memos. Indicate memos that have been paid or issued a waiver but have not yet been closed by the airline.
Below is an example of commonly used values an agency might assign to the six flex fields:
| | |
| --- | --- |
| Flex Field 1 | Name of agent responsible for creation of memo |
| Flex Field 2 | Name of agent responsible for resolution of memo |
| Flex Field 3 | Agency accounting code assigned to memo |
| Flex Field 4 | Corporate account/business unit name associated with memo |
| Flex Field 5 | Agency-defined debit memo reason code |
| Flex Field 6 | Other internal notes |
Once these flex fields are populated, your agency can export Memo Manager data into a spreadsheet and filter by any of these values, giving you the ability to track, sort and create custom reports. This data can be used to increase efficiencies, improve training for ticketing agents, or develop better management controls to ultimately reduce your agency's debit memos.
To learn more about how your agency can use flex fields to better manage debit memos, contact ARC's Customer Care Center at ccchelp@arccorp.com, or call 855-816-8003.
If your agency subscribes to Memo Analyzer, these flex field values will automatically populate within that tool, offering you quick access to all your notes as you dive deeper into debit memo trends. Memo Analyzer is best suited for agencies that process 25 or more debit memos per month. To learn more about Memo Analyzer, or to request a demo for your agency, click here.
---
Transatlantic Service Proliferates to Midsize U.S. Cities
This article by Robert Silk was published by Travel Weekly and examines the increasing number of direct flights to Europe from midsize cities across the U.S.
---
15% GetYourGuide Discount for Travel Agents
GetYourGuide, the ARC-recommended supplier of tours and attractions worldwide, is extending a discount of 15 percent to all travel agents.
To receive this discount, contact the GetYourGuide Partner Support Team by emailing partner@getyourguide.com. You will be sent a 15 percent voucher code. The code can be used during checkout.
Commission for Travel Agents: Simple and Flexible
Earning commission is simple and booking is very easy and flexible. As part of the registration process, the agency requests partner links/URLs for each booking travel agent. This link can be used on a web page, in emails, and any other forms of social media. Your clients shop and book through the link and the sale is credited both to the agency and to the individual agent.
Commission is paid to the agency in the month following completion of the activity. Agencies will receive a 12 percent introductory commission in 2018 if they identify themselves as "ARC" when they register.* Owners/Managers, click here to register and start booking.
Get Started Today
To get started, the owner/manager of the agency will need to register with GetYourGuide. Please Note: You will need your agency's banking information to complete the registration process.


Step-by-step account registration instructions can be found here. Be sure to include "ARC" under "Referral Partner" to qualify for a special 12 percent commission incentive.*
Once registered, you can work with GetYourGuide to set up individual booking links for each of your travel agents. Please read the Getting Started Guide.
*Commission for tours conducted after December 31, 2018, will start at 8 percent.
Questions? Contact GetYourGuide at 855-664-8235, or email partner@getyourguide.com.
---
How Business Travel Trends Might Affect Your Bottom Line in 2018
This article by Chris Baker, U.K. managing director of Concur, was published by Tnooz and illustrates traveler frequency trends, as well as tips for creating a smart plan for business travel.
---
Security Awareness for Travel Agents: Sensitive Data Destruction
When it comes time to get rid of old files, whether in electronic or paper format, there are several things to consider to ensure sensitive information does not get into the wrong hands.
First, you need to have a good understanding of what your sensitive information is, whether it is related to a personal customer, non-public financial information, company competitive information or the like. All sensitive information within your organization should be identified and labeled, if possible. Employees should always be aware when they are handling sensitive information.
Next, you should periodically go through your sensitive information and determine a schedule for destruction when it is no longer needed. Some information may have shorter retention periods, such as email, while others may need to be kept much longer, such as customer account records. It is up to each organization to determine a schedule based on their unique needs.
Finally, take the following precautions into consideration when destroying data:
Delete sensitive information based on the retention schedule — wherever it is, and in any format, electronic as well as physical.
Computer hard drives and mobile devices should remove all company data. When you delete a file, it's no longer immediately accessible, but the information can still be re-created.
Hard drives should be wiped by approved electronic means to ensure that no information can be recovered. This allows them to be re-used or recycled outside of the company.
Hard drives, CDs/DVDs, and memory devices should be physically destroyed if they will no longer be used. Physical destruction ensures that outside access to your sensitive information cannot occur.
Paper documents should be shredded or placed in secure bins for destruction by an outside service. Sensitive documents should never be left unattended or disposed with regular trash, where they can be discovered.
---
2015 ARC Transaction History File: Available for a Limited Time Only
On April 1, 2018, your travel agency's 2015 transaction data will be removed from ARC's systems. To keep this data on hand for your back-office needs, purchase your agency's 2015 ARC Transaction History File now.

This file provides you with settled and voided transaction information at the coupon level, allowing you to:
Research your transaction history, including debit memo and tax data
Share performance history with potential vendors and customers
Enjoy peace of mind knowing that you have all of your valuable data in house
Your Transaction History File data will be delivered on a CD in text format. Use Microsoft Excel or Microsoft Access for importing, viewing, sorting and creating your own reports. Additionally, each CD includes the ARC Transaction Viewer, so you can easily search your data for a single transaction—just like you can in ARC's Document Retrieval System (DRS).

Pricing starts at $305 per location, and all orders must be placed by March 31, 2018. To get started, contact Michael White at 703-341-1046 or mwhite@arccorp.com.
---
ARC on the Move
To close out 2017, John Pittman, ARC's director of agency sales and relationship management, and Katherine Bekkers, ARC's strategic account executive, visited two of ARC's travel agency customers.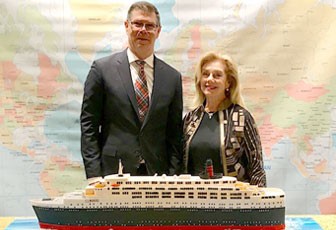 John visited Omega World Travel to join in their Client Holiday Luncheon and celebrate their 45th anniversary as an agency. While there, he presented Omega's President & CEO Gloria Bohan with an ARC 45th anniversary award. The luncheon featured a cake designed as a replica of the Queen Elizabeth 2, which originally inspired Gloria Bohan to become a travel agent.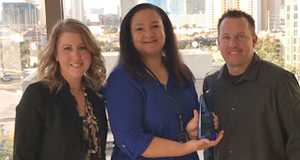 Additionally, Katherine presented Vegas.com's account manager, Erin Taylor-Jackson, and chief financial officer, Adam White, with a 10th anniversary award, celebrating their decade-long relationship with ARC.
---
ARC Specialist Training and Certification Class
Do you want the opportunity to earn your ARC Specialist Certificate?
The ARC Specialist Training and Certification class will be provided at ARC's headquarters in Arlington, Virginia, March 6-8, 2018.
ARC developed the ARC Specialist Training and Certification program with the help of industry representatives from the travel agent and airline communities. This program provides education on ARC's policies, procedures, products, and services.
In this class, you will participate in written and verbal exercises as well as group discussions. Upon completion of the class, you will receive a Certificate of Completion.
The following topics will be covered during the class:
ARC 101
ARC's Agent Reporting Agreement (ARA)
ARC Accreditation Services
My ARC
Document Ordering System (DOS)
Document Security
Taxes, Fees and Charges
Credit Card Processing
Ticketing
Sales Reporting Process
Interactive Agent Reporting (IAR)
Voids and Modification Rules
Adjustments
ARC Memo Manager (AMM)
Exchanges and Refunds
Travel Agency Service Fee (TASF) Program
IAR Back Office System (BOS)
Internet Sales Summary (ISS)
Document Retrieval Service (DRS)
ARC's Agent Resources
After the class, you can take the ARC Specialist Certification exam online at your convenience. You will have 30 days to take the exam upon completion of the training class. Those who pass the exam will receive their ARC Specialist Certification.
---
ARC Wants Your Feedback
After launching the ARC Accreditation Tool in 2012, the usage and volume of requests have increased substantially. Although we have implemented many enhancements over the years, we are confident we have room to improve.
We need your input on how ARC can improve your experience. Below, you will find a link to a brief, three-question survey. We welcome your feedback on how the Accreditation Tool can become more useful to you.