Important Updates to ARC Pay Fees and Resources
ARC has partnered closely with the travel agency community as it manages the many impacts of the COVID-19 pandemic. This has included the temporary suspension of ARC Pay chargeback fees.

As ARC Pay transactions begin to return to a steady pace, ARC will return to its standard ARC Pay policies and fee structure. Please note that the following fees apply only to transactions processed through the ARC Pay (formerly Travel Agency Service Fee, or TASF).

ARC Pay will be reinstating its standard $25 chargeback handling fee, beginning with chargebacks drafted on August 6, 2020.

Additionally, in cases of extensive chargeback disputes, ARC has seen a recent increase in arbitration fees from credit card companies. A $500 arbitration fee may be charged in cases where a transaction is disputed by the customer twice, defended by the agency twice, and the credit card company ultimately decides in favor of the customer. Arbitration fees are initiated by the credit card company, not by ARC; when they do occur, the travel agency is liable for their payment. For more information about these arbitration fees, as well as ARC's recommendations for preventing chargebacks and maintaining robust documentation, view the ARC Pay Dispute Information and FAQs (PDF).

Please note that ARC's COVID-19 policies on debit memos and the extension of the Ticket Resolution Service (TRS) compensatory grace fee period remain in effect until further notice. For more information, view the COVID-19 Debit Memo Management FAQs (PDF).

If you have any questions about these updates, please reach out to ARC's Customer Care Center at ccchelp@arccorp.com or 703-816-8003
---
ARC Enables Automated Linking of Residual Value EMDs
Effective July 23, 2020, ARC has enhanced the Interactive Agent Reporting (IAR) system to systematically link a residual value Electronic Miscellaneous Document (EMD) resulting from a GDS-issued exchange to its associated exchange transaction. This new feature will work similarly to the existing auto-linking functionality that links a residual value MCO to its associated exchange transaction.
The automated linking of a GDS-issued residual value EMD to its associated exchange transaction will occur in your IAR sales report when:
The new 13-digit exchange ticket number is in the "Issued in Connection with Document Number" (ICDN) field of the EMD; and
One of the following 3-character "Reason For Issuance Sub Codes" (RFIS) is used when issuing the EMD:

99I - Residual Value
996 - Refundable Balance
98E - Non-refundable Amount
As a reminder, a residual value EMD or MCO results when a non-refundable old document has a higher value than that of the new exchange document. When the airline allows this non-refundable residual difference to be transferred to either an MCO or an EMD, IAR will now systematically link that GDS-issued residual value document to its associated exchange transaction in the sales report.
Automated Linking of Residual Value EMDs is an IAR-only feature that works only when a GDS-issued residual value EMD is sent to ARC. Please note: the ICDN and RFIS linking criteria values are not displayed in IAR on the EMD transaction, so it is important that these fields are entered in the GDS at the time the EMD is issued. While these and other EMD-specific data elements are not yet displayed in IAR, ARC does support full EMD settlement.
If both above linking criteria are not present on the EMD when received from the GDS, you will need to manually link the EMD to the new exchange. If not linked to the new exchange transaction, your customer could be charged the amount of the EMD instead of having that value to use as a credit for future travel. Please be sure to reconcile your sales report daily to ensure any residual value document is linked to its exchange transaction.
Agency issuance of a residual value EMD is dependent upon the airline's ticketing policy, since not all airlines support agency issuance of EMDs or permit the residual value to be transferred to a new document. Your ability to issue an EMD is also dependent upon your GDS's ability to support issuance of a residual value EMD as part of the E-ticket exchange process. Please check with your GDS provider for more information.
Also included with this enhancement is the addition of new EMD qualifiers in the IAR drop-down list selection options. Under Document Type, you will see the new option of EM-EMD. Under Transaction Type, there are three new options: EM-ALL EMDs, EA-EMDA and ES-EMDS. You may use these list qualifiers to create custom lists of EMD transactions.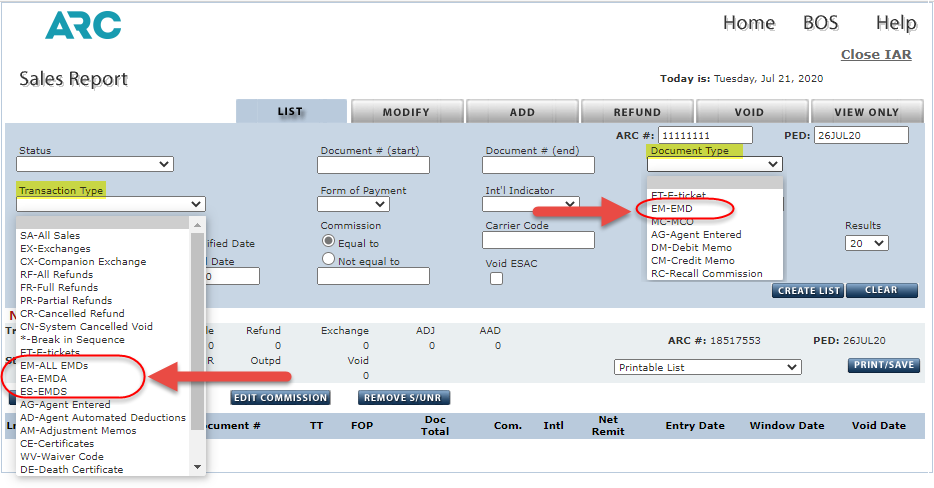 These enhancements have been made in response to requests to reduce the manual effort required in IAR and to increase the accuracy of exchanges. This is another of ARC's continuing efforts to provide the best settlement solutions.
Please refer to the Industry Agent's Handbook (IAH) in Section 5 – IAR under Exchanges with Non-Refundable Residual Value for more details.
---
LIAT Airlines No Longer Accepts UATP
Effective PED 07/26/2020, LIAT Airlines (LI/140) no longer accepts UATP as form of payment. Agents issuing refunds for LIAT Airlines are encouraged to have customers to contact their card issuer for resolution, as ARC will not be outputting the refunds to the processor.
---
ARC's COVID-19 Resources for Travel Agencies
ARC is providing access to several resources to help the travel community manage the impacts of COVID-19. These resources can be accessed here.
This list of resources includes:
Weekly air travel data updates
Airline refund and exchange information
Debit memo and chargeback guidelines
Airline ticket validity extension information
Fraud prevention resources
---
Tip of the Week: Why was My ARC account deleted?
Are you unable to access your My ARC account? Any My ARC account with access to ARC tools containing sensitive data (including Accreditation, ARC Pay Hub, Document Ordering System, Document Retrieval Service (DRS), IAR, and Memo Manager) is automatically deleted after150 days of no activity for your data protection.
Payment Card Industry (PCI) security standards require that you access your account and change your password every 90 days when you have access to sensitive data. A My ARC account with access to sensitive data and with no login attempts will go through the following statuses before it is automatically deleted (a reminder email is sent to you before each status change):
90 Days (Inactive status) – Access is locked.
120 Days (Suspended status) – Access is locked and suspended.
150 Days (Deleted status) – The account is automatically deleted.
If you do not have access to any ARC tools that contain sensitive data, your My ARC password will never expire, and your account will never be automatically deleted. However, it is strongly recommended that all My ARC users sign in at least once a month to maintain an active account status.
If you are unable to access your My ARC account for any reason, you may attempt to reset your password by clicking the Reset a Forgotten Password link found on My ARC.
If your account has been suspended or deleted, please contact your administrator to restore access. If you do not know who the administrator is, please click on the Find Your Administrator link found on My ARC.