New Year, New Name
To kick off 2018, ARC will be refreshing the names of its services, tools, communications and resources for airlines.
Starting February 1, ARC will begin using the term "airline" instead of "carrier." We believe this updated language better reflects ARC's current participating customers, and it speaks more directly to the work our customers do each day.
You will see several updates across the ARC experience, but one of the most notable changes is that ARC's Carrier Help Desk will now be the Airline Help Desk. You can reach the Airline Help Desk viaemail at ahd@arccorp.com.
You will also notice several changes to labels and headers on the ARC website, including Participating Airlines, Airline Ancillary Matrix and Airline Training. (You may have noticed a new header on this updated Airline Newsletter, as well.)
Over the next several weeks and months, additional changes will be made to various tools, communications and applications to reflect this update. If you have any questions about this update, please contact Crystal Montague, ARC's manager of airline participation and customer experience, at cmontague@arccorp.com or 703-816-5107.
---
2018 Airline Fees
On December 6, 2017, ARC's board of directors approved the monthly fee schedule (see below) for 2018. The monthly fixed and variable fees are consistent with those from 2017. For your convenience, the full 2018 Airline Fee Schedule can be accessed here on My ARC.
Transaction Only Associate Full
Transaction Threshold 0-700 701-2,717 2,718 & Above
Monthly Fixed Fee ---- $1,750 $8,000
Transaction Fee $5.00 $2.50 $0.20
---
ARC Eliminates the Credit Card Chargeback Policy
Effective February 1, 2018, ARC is eliminating the credit card chargeback policy currently published in the ARC Industry Agents' Handbook (IAH). To prepare for this change, airlines are encouraged to review communications provided to agents in the chargeback management process to eliminate references to this chargeback policy.
The credit card chargeback policy was based on payment card company rules, and it stated that, if a cardholder claims their card was used fraudulently, the agent will be relieved of liability if they provide a signed and imprinted universal credit card charge form. The expectation was that the airline would provide the information to their acquirer or to the credit card company to remedy the chargeback.
The timing of the change in the policy is driven by the prevalence of chip cards in the U.S. market. In a chip card environment, as the card companies attempt to eliminate counterfeit card fraud, a signed and imprinted charge form no longer provides proof that the card and the cardholder were present. A chip-card-enabled terminal must be available to read the chip card, and the GDSs do not currently support credit card terminals in the travel agency distribution channel in the U.S.
The challenge is that agents, like airlines for direct sales, still need to validate that the customer is the cardholder and not someone using a stolen card to perpetrate fraud. The procedures for card acceptance in the new Section 6 of the IAH state that the agency must validate the identity of the cardholder, ensure the cardholder has knowledge of and is participating in the transaction, and in case of a chargeback, retain documentation demonstrating it was done. The new chargeback management procedures reinforce the expectation that the airline will contact the agent when the chargeback is received to obtain documentation in an attempt to reverse the chargeback. It points out that airlines are often in the best position to provide support to reverse a fraud chargeback via flight manifest information.
United Airlines reported at TravelConnect that, when they started to provide flight manifest data as support for a chargeback, they experienced a 45% reversal rate. Therefore, airlines are strongly encouraged to provide proof of flight for agency sales along with direct sales. It is important to note that the procedures for chargeback management also state that, if the airline is unable to obtain a reversal of the chargeback, the agent assumes financial responsibility for the debit memo issued as a result.
To download and view the updated IAH, click here. If you have any questions about the change, or about card acceptance or chargeback management in general, please contact Jennifer Watkins, ARC's director of payments, at jwatkins@arccorp.com, or contact ARC's Airline Help Desk at ahd@arccorp.com.
---
Enabling Enhanced Distribution through ARC
In November 2017, ARC announced enhancements to its settlement platform to support a variety of distribution methods, including New Distribution Capability, or NDC. Through collaboration with both airlines and travel agencies, ARC is helping to facilitate the implementation of these new approaches to distribution while continuing to support existing systems and processes.

With ARC's flexible platform, each airline can implement the features that best match its distribution strategy. This includes the option to use neutral ARC or airline ticket stock, the acceptance of both the ARC and IATA sales file formats and multiple credit card billing options. An additional change is the inclusion of an NDC indicator for those transactions that may take a different processing route than traditional transactions.

These enhancements are the result of feedback ARC has received from its Settlement Council—a cross-functional group comprised of both strategic and operational industry thought leaders representing airlines, travel agencies and technology providers.

Whether your airline chooses to connect to the agency distribution channel through a GDS, a direct connection, an aggregator or a combination of these models, ARC is here to support your unique distribution strategy.

To learn more about how ARC can support your organization's distribution strategy, visit the ARC website or contact Shelly Younger, ARC's senior manager of industry relationships, at syounger@arccorp.com or 703-816-8577.
For additional information about enhanced distribution capabilities, including NDC, register for ARC's NDC Now webinar on February 15 at 1 p.m.
---
Airline Tip: Reset Your Own My ARC Password by Email
ARC makes its simple for airline employees to reset their own My ARC passwords quickly and securely.
If you are signing in through ARC's corporate site, look for the "Forgot Password?" link above the password field. If you are signing in from a bookmarked My ARC URL, look for the "Reset a Forgotten Password" link.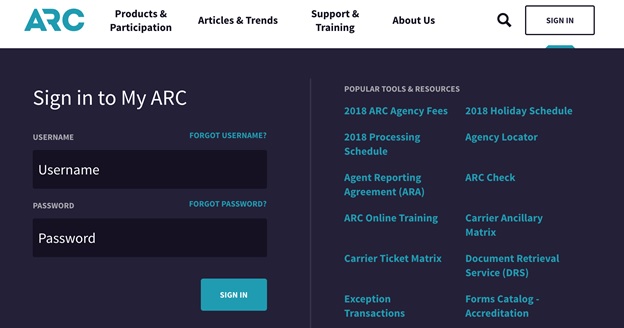 Once you enter your username and the email address linked to the account, you will be taken to the "Forgot Password" page. At the bottom of the frame (pictured below), click the link to reset your password by email. You do not have to enter the answer to the security questions for this to work. You will receive an email containing a link to create a new password.
---
Airline Education
Upcoming Webinars
Chargeback Policy
January 25, 2018
1-2 p.m.
February 15, 2018
1-2 p.m.