On a recent webinar, ARC and our fraud mitigation partner, Perseuss, discussed the state of the travel industry, why travel agencies and advisors should be aware of an uptick in fraud, plus resources available to help reduce fraud risk.
Below are some of the highlights from that webinar.
The State of the Industry
Knowing where the industry and, specifically, ticket buying behavior is headed can often be a predictor of fraud activity.
The Travel Recovery Insights Portal (TRIP), a joint project of ARC, The Boston Consulting Group and 3Victors shows the future demand for travel based on demand signals – including web search activity, actual ticketing data, consumer sentiment, as well as data from the Organization for Economic Cooperation and Development (OECD) and John Hopkins University.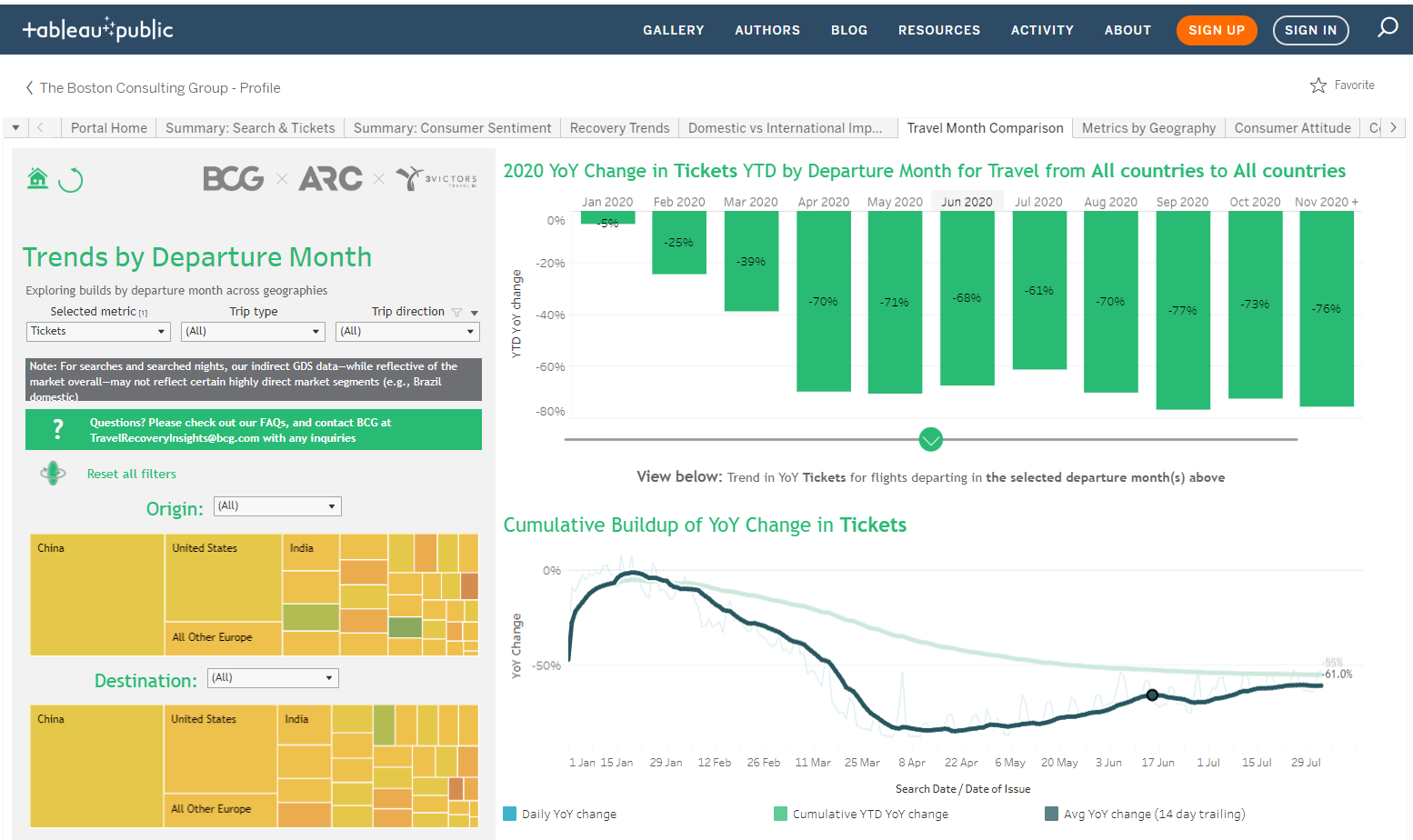 You can view recovery trends by geography, departure date and a myriad of other factors. The TRIP portal is updated weekly. Based on what we've seen through this tool and ARC's weekly transactional data, air travel recovery has been slow. After a brief uptick in May and early June, transactions leveled off as COVID-19 cases started to rise once again. Regardless of the slow recovery, we've observed several trends:
Domestic travel will recover first. Many countries have implemented restrictions for international travel that will limit the amount of flights possible into and out of their international hubs.
Some travel may not return in the short term. Online communications tools have given companies the ability to conduct business virtually that was typically reserved for in-person meetings.
As air travel continues the slow climb to recovery, what should agencies and advisors look for with fraud?
Fraud Trends and Forecasts
The focus for any agency or advisor should be to prevent fraud rather than deal with it once it occurs.
On average, agencies must sell 29 new tickets to recover from one chargeback, and often lose two to three times the transaction amount due to fraud. For this reason, it's always better to prevent fraud rather than having to deal with it once it occurs.
Overall, since March, we saw transactions nose-dive, bounce along the bottom for a few weeks and begin an incrementally slow rise until starting to trail off again at the end of June. That aside, we saw a steep growth in fraud throughout the month of July, particularly from western Africa and the Asian Pacific region.
As we expect fraud levels to rise as travel rebounds, we also anticipate:
The shift from card present to card not present payments to increase credit card fraud risk. There will always be point-of-sale vulnerability, and it will be on the forefront as this shift continues.
Fraud being more difficult to differentiate with legitimate purchases due to changes in traveler booking behavior. This issue is heightened by more single purchase, one-way tickets that we're seeing.
Contactless payments and the use of mobile wallets to increase the opportunity for virtual fraud.
Friendly fraud, where legitimate cardholders are making purchases and then disputing it with their banks, to continue flourishing.
Our Goal: Reducing Risk
Through industry collaboration, organizations like ARC and Perseuss are combatting fraud and helping travel agencies detect and prevent it before it happens.
Fraud and fraudsters tend to follow patterns of behavior and that behavior leaves a trail of data points — lots of them. ARC Risk Check searches 3.2 billion data elements for instances of fraudulent activity, including real, worldwide travel bookings. What makes ARC Risk Check unique is the combined intelligence of actual reports from people throughout the travel industry. What results is a data-driven Risk Score that agencies can use to support decisions whether to accept or block a potential customer.
Try ARC Risk Check free for two months.
Resources
Webinar: Keeping Fraud Down When Business Ramps Up
The presentation and answers to the questions that were asked: