Given management thinker Peter Drucker's adage that you can't manage what you can't measure, data has long been a key element for travel decision makers to best manage their programs.
But in the past year, "acquiring quality data to manage travel programs" has become increasingly important, according to two-thirds of 109 travel managers surveyed for ARC by The BTN Group in March and April of this year. The other third of respondents said the importance of data had remained the same within their organizations in the past year. Unsurprisingly, no respondents said data had become less important.
So what's driving the change? More than 60 percent of those surveyed said the increased importance of data was due to traveler compliance and/or budgeting/chief financial officer purposes. Slightly more than half of all respondents also cited procurement analysis and travel department performance as reasons for the increased importance of data. Only a handful of respondents cited human resources reporting as a reason for the increased demand for data, and just one respondent cited security.
Emerging Trend: Development of Dashboards
One of the key emerging trends in travel management has been the development of dashboards to push more data deeper into organizations. ARC's Corporate BI is one such product, developed to leverage ARC's unbiased and comprehensive settled ticketing data to provide a superior way for decision makers to visualize, analyze and monitor air travel programs.
Delivered as an easy-to-use interface or a direct data feed, Corporate BI allows corporations to:
Better visualize air spend at the booking class level across airlines and markets
Monitor and report with easy access to key air travel metrics
Identify best value opportunities and assess contract performance in a timely manner
Gain a deeper understanding of policy effectiveness and traveler compliance
Increase efficiency and transparency in preparing for executive and supplier interactions
While many organizations continue to rely on monthly and quarterly reporting distributed to senior management and budget owners, one of the key emerging trends in travel management has been the development of dashboards or other communications to push more data deeper into organizations—even to travelers. For example, some companies reinforce policy compliance through traveler or manager dashboards that compare behaviors between individuals, departments or divisions.
An increasing number of companies are taking a fresh look at the data they have today and involving key stakeholders to brainstorm what they could do with other elements and sources and what's missing, noted Cindy Allen, founder and CEO of Team Catalyst Holdings and its Pay For Trip startup, during a recent presentation at the Association of Corporate Travel Executives Global Conference in Dallas. They're looking for "actionable data points," Allen said.
HSBC is one company that recently took a fresh look at the value of travel data and reporting provided to business units, Michael Lyons, regional head of travel services, explained at an ACTE session. Looking at third-party providers, Lyons said, "There is some amazing stuff out there," that allows companies to get real-time information in business leaders' hands and allow them to drill down on any element. Lyons said the company decided to use internal resources to build new reporting sets and provide much more real-time insight to managers with insights and analytics from the travel management staff. Other travel managers noted new data-dive approaches to identify trends, such as project travel, that might be better managed by temporarily relocating employees; or the need for new supplier contracts or procurement analysis due to consolidation or marketplace changes.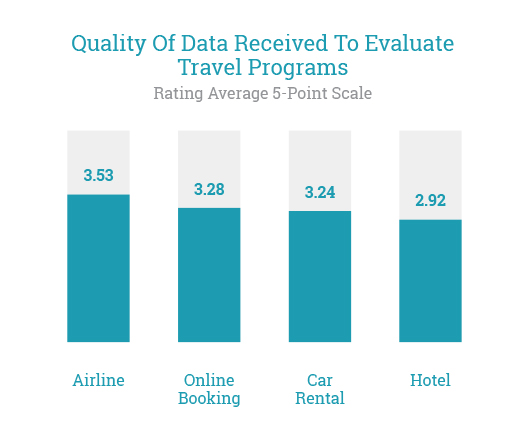 How Is Data Quality?
In terms of quality of data they currently receive, survey respondents rated airline data the highest on a five-point scale, with an average rating of 3.53, followed by online booking, car rental and hotel. However, respondents indicated that there is room for improvement across all areas of managed travel, as less than 14 percent ranked airline data as excellent with more than three-quarters ranking it as above average or average.
Asked specifically to identify challenges of the data sets they currently receive for air, hotel, car and online booking, more than 20 percent of respondents cited the accuracy, completeness and timeliness of airline data received. More than 40 percent cited completeness of hotel data, while 33 percent cited completeness of car rental data as challenges.
Also asked to identify the strengths of the data they currently receive, frequency was the most cited attribute by 22 percent of respondents. One respondent noted of all data reporting categories, "there are no strengths," while another noted that "none truly capture savings versus the entire travel marketplace."