We're celebrating the incredible women of ARC who are making their mark in the world of travel. We hope their stories and travel tips encourage you to embark on your own adventures. And remember to share your stories, too; you never know who you may inspire. Happy Women's History Month, and happy travels!
Lauri Reishus (front right, second row) in Petra, Jordan.
Lauri Reishus
President & CEO
It's a big world, and I've had the privilege of exploring wonderful places with over 20 industry friends for many years. We're travel agents, GDS operators, baggage handlers, gate agents, station managers, travel tech geeks and a few lucky hangers-on. Amongst us, you'll find history buffs, shoppers, hikers, beach lovers, chefs, golfers, thrill-seekers and open-to-all adventurers who love experiencing new cultures and making new friends around the globe.
My advice? Find like-minded friends, set up a WhatsApp group and plan a big trip where none of you have been. It's more fun with a travel squad!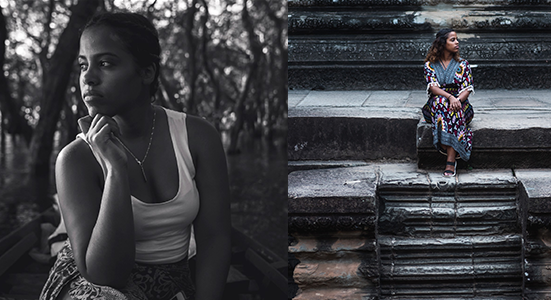 Adrienne Ables-Sinclair in Siem Reap, Cambodia (left) and Angkor Wat, Cambodia (right).
Adrienne Ables-Sinclair, SHRM-CP
Sr. Manager, Talent Acquisition
My first trip abroad at 16 shaped my outlook on the world outside my home. It was a two-week journey filled with highs and lows, but a pivotal moment where I knew travel would be rooted in my future career and lifestyle. Travel is a privilege that not everyone can access, and unfortunately, women are often unable to experience it. So, my best advice is to embrace the unknown, be brave, take advantage of that little blue passport and see the world!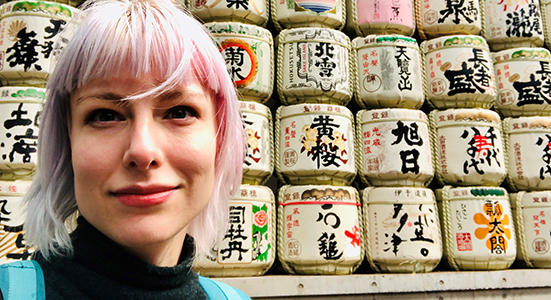 Sara Hetland in Tokyo, Japan.
Sara Hetland
Sr. Manager, Brand Marketing, Content & Programs
Being able to travel is a huge privilege – I'm grateful for the times in my life when I've had the means and opportunity to do it regularly. For me, the biggest benefit of travel is that it pushes you to connect with interesting people and different ways of life. Just before the pandemic, I went to Tokyo by myself for a business trip and had the best time sitting in a tiny eight-seat bar with people from all over the world. Traveling solo as a woman isn't always easy, but there are good people out there and I love crossing paths with them, even if only for a few moments.


Paige Blunt (bottom left) in Venice, Italy.
Paige Blunt
Sr. Manager, Direct Connect and ONE Order
I've had the privilege of being a world traveler for most of my life. My first trip out of the country was at 3 years old when my family went to St. Croix with my grandparents. Since then, I have visited many unique places like Mauritius, Singapore; Hong Kong; St. Petersburg, Russia and Budapest, Hungary. They all have their own amazing attributes of culture, lifestyle and culinary delights. 
Wherever you travel, spend some time doing what locals do, eating where they eat and enjoying their unique culture. You may not find any other like it in the rest of your travels.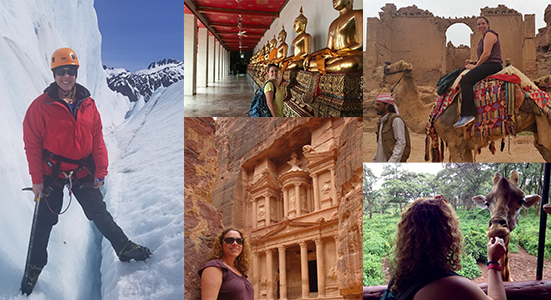 Betty Chaparro in Alaska (left); Thailand (top, middle); Petra (bottom, middle); Jordan (top, right); Africa (bottom, right).
Betty Chaparro
Director, Total Rewards
I've traveled since I was born. My family always went to Colombia (where my parents are from) for a month each summer. Going to Colombia every year taught me about different cultures, food and people. It helped me understand that everyone lives differently.
I took my first trip to Europe when I was 23. I traveled to Paris and Rome and fell in love with everything – I could have stayed there forever. I couldn't wait to experience the rest of the world, and ever since then, I have visited various countries in Africa, Asia, South America and Europe. 
I'm always planning the next trip and awaiting my next adventure.



Christina Worthington in Positano, Italy.
Christina Worthington
Employee Experience & Internal Events Manager
I started making travel a priority in my life in 2016 when my now-husband and I went to Rome and Paris, where we got engaged! Since then, I've traveled to 21 countries where I've made it a goal to immerse myself in as much of the authentic culture as possible during each visit.
Traveling has allowed me to learn about the world around me while experiencing places, cultures and people I would have otherwise never had the chance to experience and for that, I'm so grateful. If you're ever in doubt—buy the ticket; take the trip.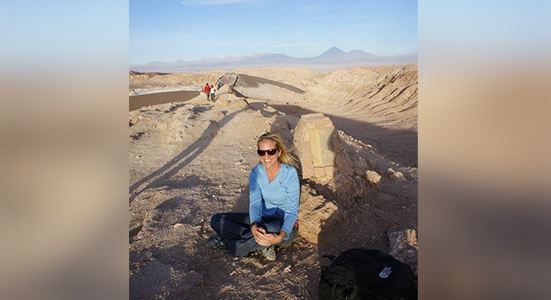 Karen Didden in Chilean Patagonia.
Karen Didden
Marketing Intelligence Analyst
I was fortunate to travel to Chile with friends in 2010. We planned to head south and explore the Patagonia area, hike an active volcano, white water raft, etc.  The first night there, a massive 8.8 earthquake hits. We were fine, but it made for quite the experience to get back to Santiago. The locals were wonderful showing us the way and helping us navigate roads and bridges that were no longer there. We made it back to Santiago airport on the first day it reopened and were able to board our original return flight home. 
The moral of the story is that plans can always change, go with the flow and go to Chile; it's the most beautiful country. I've been back since, and it was absolutely amazing.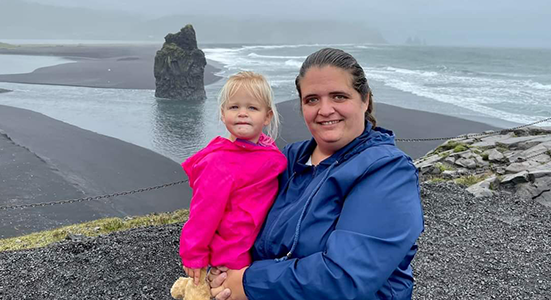 Sarah Boyd in Iceland with her daughter.
Sarah Boyd
Sr. Manager, Airline Retail
I caught the travel bug in college while studying abroad in Argentina. My new best friend and I backpacked for over eight weeks across South America from Ecuador to Tierra del Fuego, Argentina.
What was supposed to be a once-in-a-lifetime adventure became a passion and career. I'm a creature of habit in my everyday life, but travel forces me out of my comfort zone and makes me more adaptable and open.
When my 3½-year-old daughter was born, it was important to me that she grows up traveling; to understand that the world is a bigger place than our corner of Northern Virginia. So far, she's been to 11 countries, 17 U.S. states, eight National Parks and is looking forward to our next adventure.


Jennifer Watkins (bottom, left) Cinque Terre, Italy.
Jennifer Watkins
Director, Payments
Finding a great group of women to travel with is priceless! It has allowed us to find unique accommodations with private pools, outdoor kitchens and large communal spaces—much better than staying in a hotel. It has opened doors to more shared experiences, unique local opportunities, private dining options (while drinking wine or sangria) and customized day trips. So far, we've been to small towns outside Pisa, Italy and Girona, Spain. Our next stop is Costa Rica.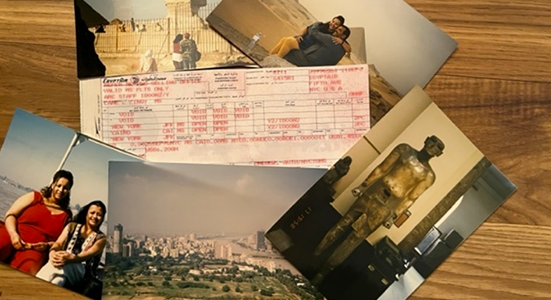 Cindy Lane in Cairo, Luxor, and Aswan, Egypt.
Cindy Lane
Events Coordinator
Born with the name "Queen" LuCinda Lee, a pilgrimage to Egypt was in my future. Seeing the "Queens" I so portrayed and resembled was a must. Thousands of adjectives can barely describe my adventure to Cairo, Luxor and Aswan, Egypt. It's a trip I will take again!