Does your new customer really reside at the address they claim? People obviously do move around, but by using Whitepages.com's reverse address feature (whitepages.com/reverse_address) you can see if the address matches the information provided by a new customer. If the information does not match you may not want to issue the tickets.
Check WhoCallsMe to see if other travel agents are posting complaints/concerns about a telephone number used by a new customer. Sometimes an alleged fraudster's email address will also appear within the complaint providing even further evidence that a new customer is really a probable fraudster.
Fraudsters create email addresses that look similar to existing corporation email addresses and then email that corporation's travel agency in order to pass themselves off as an employee in need of airline tickets. If an email address for a corporate client is different than the usual email address, use whois.com to determine when it was created.
NOTE: Free internet services (e.g., Yahoo, Outlook, Gmail, Yandex, etc.) cannot be checked using this site.
Screenshot from website Whois.com: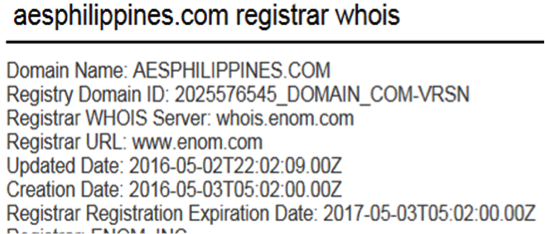 A fraudster claiming to be with an international energy company contacted their corporate travel agency the same day that email address "aesphilippines.com" was created. The legitimate corporate client has a different email address.
If after a quick review of customer information on the websites above reveals enough information that conflicts, then you may not want to issue tickets for a potentially risky new customer.