Overview
Through much of its history, travel management has largely measured trip success by two core components: Cost savings and policy compliance. Research shows it is time for a new model.
Today's managed travel programs focus on squeezing as much value out of these historical KPIs as possible by taking a procurement-focused approach to air, hotel and ground sourcing; adopting online booking and expense management systems; consolidating travel management companies (TMCs) and corporate card programs; and becoming more strategic with meetings management. Travel managers may be able to find some additional value by consolidating more spend under contracts, pressuring suppliers for more price concessions and lowering overall trip quality. However, returns are likely to be nominal. Even so, this approach overlooks the true reason for putting employees on the road: achieving a positive business impact. In other words, travel management needs to shift its mindset from prioritizing cost to valuing business outcomes above all else.
While the managed travel industry has historically focused on reducing costs, those savings represent only about one percent of the total economic value generated by road warriors," says
Scott Gillespie, head of analytics at ARC. "It makes both logical and fiscal sense for management to focus more closely on increasing road warriors' trip success rates and their willingness to travel, while decreasing their burnout and attrition risks," he adds.
This post will review recent research examining the concept of traveler friction and its impact on an organization's most valuable travelers — road warriors. It will also examine how companies can improve their trip success rates and what travel brands throughout the value chain are doing to reduce traveler friction for their most important customers.
Who Are Road Warriors?
Road warriors represent approximately 10 percent of all business travelers, according to tClara's analysis of ARC's dataset — the most comprehensive air travel transaction data in the world. Yet, they represent about 50 percent of total corporate travel spend. Road warriors take at least 35 trips per year, spending 88 nights away. They fly approximately 267 hours and cross 138 time zones. Eighty-eight percent of their flight hours are in economy class, and 62 percent of those same hours take place during personal time.
"To put these travel statistics into perspective, road warriors spend approximately four work months away on the road every year," Gillespie says. "Their flight hours alone represent about seven work weeks, with four of those made up of personal time," he adds.
As dedicated and valuable corporate citizens, road warriors are generally well-compensated by their employers. According to a 2016 study by ARC, American Express Global Business Travel (GBT) and tClara, the average road warrior earns $155,000 per year. However, compensation in and of itself is not necessarily enough for a company to ensure that it retains these highly valuable employees. In that same study, 84 percent of the 757 surveyed road warriors said they would be interested in a job from a different firm that requires similar travel levels if it offers a very attractive travel policy.
Eighty-three percent said that a new firm's travel policy would be at least equally or more important than the new pay and responsibilities. While 86 percent of road warriors were satisfied with their current travel policy, about half would like to travel significantly less in two years. Sixty-four percent believed they could fairly easily find a job without a lot of travel if they wanted to.
Limiting road warrior attrition should be a critical component of any travel program. According to a study by the Center for American Progress, the cost of replacing a senior-level executive can be as much as 213 percent of that employee's salary. Not only are these road warriors highly valuable to the commercial success of an enterprise, but their departure for another firm would be detrimental to their current company's bottom line.
What Is Traveler Friction?
The concept of traveler friction is simply the wear and tear travelers experience over time. More challenging and important, however, is identifying what causes traveler friction, measuring it within an organization and addressing it in meaningful ways that enhance trip success, increase retention and create a healthier lifestyle.
It's important to understand that traveler friction is generally inverse to cost savings. If one rises, the other naturally falls. For example, while a lower-quality trip generally costs less, the friction experienced by a traveler on that trip will be higher. It is critical for enterprises to holistically look at the cost of travel – the hard dollars spent on the trip itself, and the more intangible — but more impactful — costs of traveler friction.
While there is no silver bullet and every organization is unique, it is possible to create an effective travel policy that balances both layers of cost.

How Should Travel Programs Measure Success?
"Businesses spend money on travel for one reason: Positive outcomes from those trips," says Gillespie. "It is easy to reason that organizations should design their travel programs to maximize business outcomes, rather than simply minimize costs," he adds.
This means prioritizing the things that matter most to those who manage a company's road warrior:
Trip success (was the trip worth it or not)
Road warrior retention
Traveler wellness
According to a 2018 ARC co-sponsored report based on 742 road warriors surveyed:
63 percent of trips taken in the previous 12 months were rated as mostly or very worthwhile.
24 percent will likely leave their current employer within the next two years.
48 percent want to travel much less in two years.
17 percent are currently or nearly burned out on travel.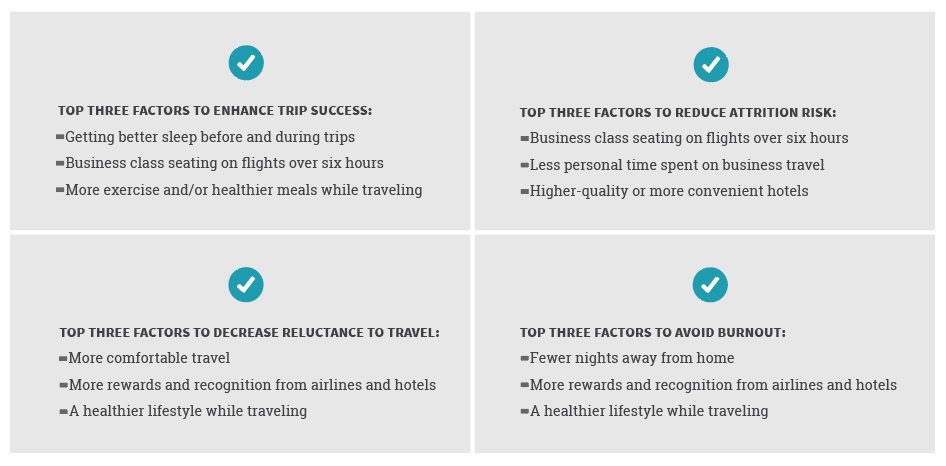 Organizations clearly run the risk of long-term negative impacts from travel policies that overemphasize cost savings and undervalue trip outcomes when measuring success.
How Can Companies Improve Trip Success Rates?
Companies can leverage these studies to conduct their own internal investigation of travel business outcomes. Doing so will allow them to identify areas of opportunity to reduce traveler friction and attrition risk, as well as increase trip success and traveler wellness.
In the 2018 study, road warriors were asked to report the factors that would most likely achieve more trip success, reduce attrition risk, encourage travelers to keep traveling and limit traveler burnout.
While responses were generally intuitive (e.g., business class on flights longer than six hours), they provide a clear roadmap for organizations to adjust travel policy in a way that encourages more positive business outcomes. Additionally, they contain insights on how organizations throughout the travel value chain can make impactful changes in their product and service offerings.
A common theme across categories is the need for travel programs and the organizations serving travelers to put more emphasis on wellness – whether that's finding ways for travelers to get more rest and exercise while traveling or changing the circumstances surrounding trips in the first place (e.g., less travel on personal time).
What's clear from this research is that travel policies truly matter. When responses were compared by different travel policy types (i.e., cost-focused versus traveler-focused policies), the results were profoundly informative. Road warriors who said they traveled under cost-focused travel policies reported significant negative outcomes when compared to those with traveler-focused policies.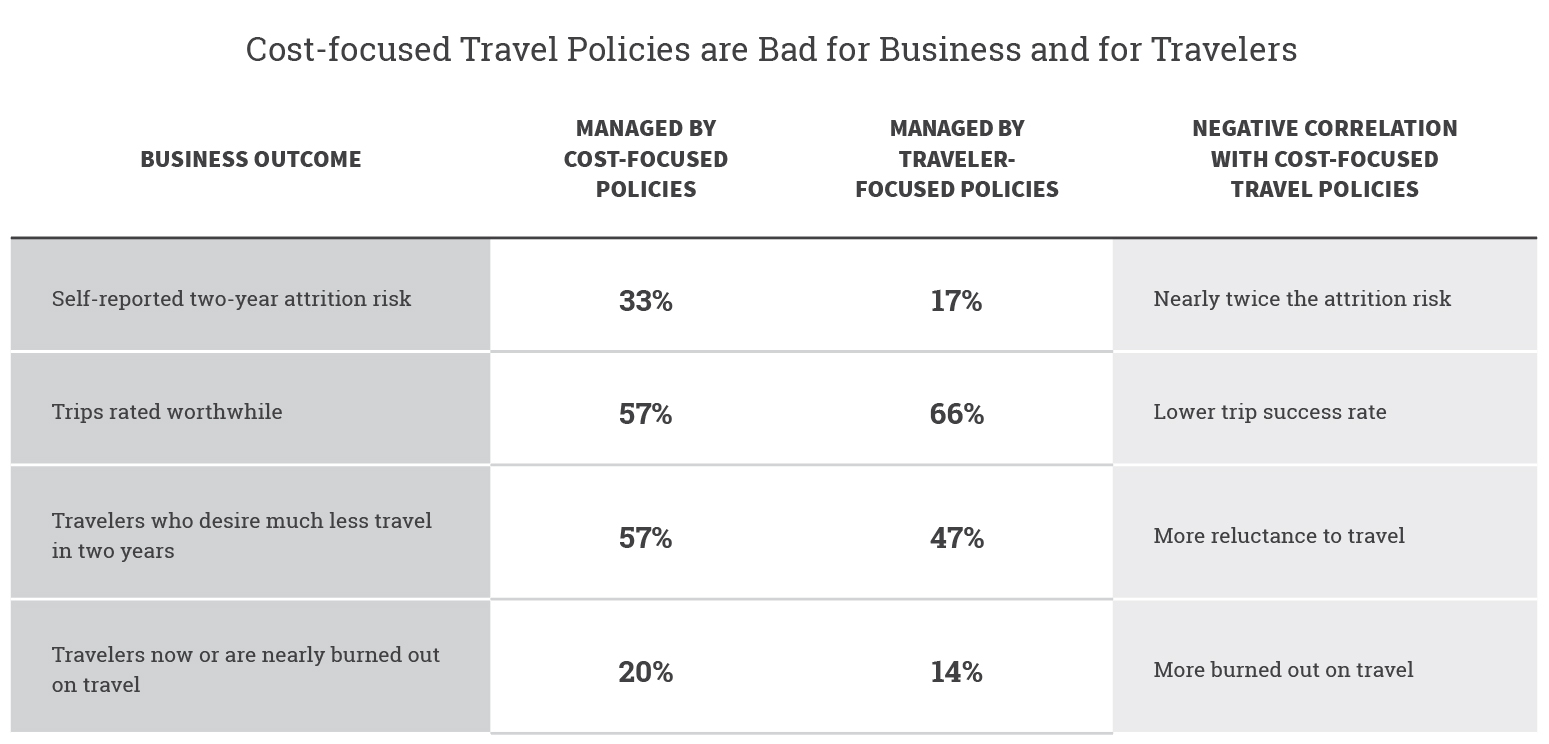 "Focusing on costs has been the status quo for most of managed travel's history," says Gillespie. "But this research reveals that the cost-savings goal has overshadowed much more important objectives: Achieving successful trips, retaining valuable road warriors, and helping travelers stay healthy and happy."
Furthermore, organizations shouldn't take a "one-size-fits-all" approach to creating a travel policy. Rather, they should identify opportunities to support their most frequent travelers. In the 2016 ARC, American Express GBT and tClara study, 65 percent of resilient travelers reported that their firms had a separate or more accommodating travel policy for frequent travelers, compared to only 44 percent of nearly burned out respondents.
What Travel Brands Are Doing to Reduce Traveler Friction?
While policy is critical, reducing traveler friction doesn't solely rest on the shoulders of travel managers and business leaders. Travel suppliers such as airlines and hotels, as well as others throughout the travel value chain such as airports and travel management companies (TMCs), can play a role helping travelers achieve trip success and reduce burnout.
According to the 2018 study, road warriors identified a number of factors that airlines, hotels and airports can specifically address to increase trip success.
While some of these factors could be managed via policy (e.g., reimbursed TSA Pre® or Clear® subscriptions), they are factors that travel organizations should take note of, particularly for the most frequent travelers, who are also likely to be the most brand-loyal.
According to CAPA – Center for Aviation, organizations throughout the supply chain have taken note and are already examining and developing ways to reduce traveler friction and increase trip success and wellness.
Several examples follow.
Self-drop baggage systems: While not as prevalent in the U.S., these systems have reduced processing times at airports around the world. London Gatwick has leveraged self-drop baggage to increase peak check-in capacity by 45 percent, with the average bag transaction taking less than two minutes (per the International Airport Review). Increased adoption in the U.S. would require changes to TSA regulations, highlighting the critical role that policy plays in either reducing or increasing traveler friction.
Biometrics: Over the past several years, Delta Air Lines and Atlanta Hartsfield-Jackson International Airport rolled out a biometric program throughout Terminal F. Passengers no longer need boarding passes (either paper or on their mobile phones) for check-in, baggage check or security. Rather, those functions are all managed through facial recognition technology. Delta seeks to scale its current biometric experience in McNamara Terminal at Detroit Metropolitan Wayne County Airport to an end-to-end, curb-to-gate process in 2019. JetBlue introduced a biometric boarding gate at John F. Kennedy International Airport in late 2018, and has also trialed programs at Boston Logan International Airport and Fort Lauderdale-Hollywood International Airport. At Los Angeles International Airport, American Airlines has piloted biometric boarding on select international flights. Lastly, at Miami International Airport, a biometrics-only passport screening program in its Concourse E has decreased wait times between 30 and 80 percent. The airport is planning to expand the program to Concourses D and J.
Travel program partnerships: At Seattle-Tacoma International Airport, Alaska Airlines and Delta Air Lines have opened dedicated check-in lanes for Microsoft and Amazon employees, Washington's second- and third-largest employers.
On-board service: To improve the overall traveler experience, Delta Air Lines' flight attendants are each equipped with an iPhone containing customer information. This enables flight attendants to, for example, acknowledge a previous service interruption or major milestone (e.g., million-mile status).
Reduced disruptions: Delta Air Lines leveraged machine learning and artificial intelligence to proactively seek patterns and identify trends that could lead to a potential mechanical issue that could result in a flight delay, cancellation or repair.
Omni-channel communication: Alaska Airlines and Hawaiian Airlines provide certain types of customer service through text messaging. Meanwhile, Volaris and Aeromexico have both launched chatbot programs. Volaris' chatbot, Vale, allows customers to book and pay for airline services, a first in the industry.
Conclusion
Today's road warrior is a highly valuable, highly valued traveler. Travel programs need to look beyond the historical KPIs of cost and compliance and instead place priority on traveler productivity and well-being. While road warriors work hard, are well compensated and genuinely enjoy the travel experience, they are also open to leaving their organization for a new firm with a more traveler-centric policy.
Leading companies are already redesigning their travel programs for this new era. These programs:
Prioritize better sleep
Reduce personal travel time
Promote healthier diets and more exercise
Allow non-stop flights and have better cabin policies
Choose better hotels
Contract with more punctual airlines
Additionally, they are reimbursing travelers for:
Programs that provide faster airport security screening
Priority boarding, preferred seats and Wi-Fi
Airport lounge access
Gyms and exercise classes while on the road
Meanwhile, travel organizations throughout the value chain are implementing new technology, products and service offerings to support their most valuable corporate customers and travelers. If the past 30 years were dedicated to reducing costs, the next 30 will be devoted to reducing traveler friction.
Learn more about how ARC data can help better manage your travel program or those of your customers.